Ethical, legal, and social issues in the Earth BioGenome Project.
Sherkow, Jacob S.
;
Barker, Katharine B.
;
Braverman, Irus
;
Cook-Deegan, Robert
;
Durbin, Richard
;
Easter, Carla L.
;
Goldstein, Melissa M.
;
Hudson, Maui
;
Kress, W. John
;
Lewin, Harris A.
;
Mathews, Debra J. H.
;
McCarthy, Catherine
;
McCartney, Ann M.
;
da Silva, Manuela
;
Torrance, Andrew W.
;
Greely, Henry T.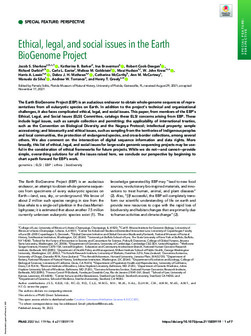 Abstract
The Earth BioGenome Project (EBP) is an audacious endeavor to obtain whole-genome sequences of representatives from all eukaryotic species on Earth. In addition to the project's technical and organizational challenges, it also faces complicated ethical, legal, and social issues. This paper, from members of the EBP's Ethical, Legal, and Social Issues (ELSI) Committee, catalogs these ELSI concerns arising from EBP. These include legal issues, such as sample collection and permitting; the applicability of international treaties, such as the Convention on Biological Diversity and the Nagoya Protocol; intellectual property; sample accessioning; and biosecurity and ethical issues, such as sampling from the territories of Indigenous peoples and local communities, the protection of endangered species, and cross-border collections, among several others. We also comment on the intersection of digital sequence information and data rights. More broadly, this list of ethical, legal, and social issues for large-scale genomic sequencing projects may be useful in the consideration of ethical frameworks for future projects. While we do not-and cannot-provide simple, overarching solutions for all the issues raised here, we conclude our perspective by beginning to chart a path forward for EBP's work.
Date
2022
Type
Rights
This open access article is distributed under Creative Commons Attribution License 4.0 (CC BY).
Collections