The economic impact of climate change on wheat and maize yields in the North China Plain.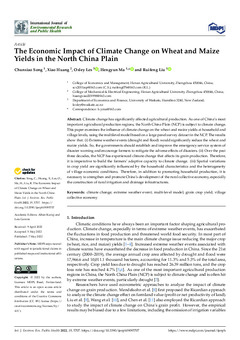 Abstract
Climate change has significantly affected agricultural production. As one of China's most important agricultural production regions, the North China Plain (NCP) is subject to climate change. This paper examines the influence of climate change on the wheat and maize yields at household and village levels, using the multilevel model based on a large panel survey dataset in the NCP. The results show that: (i) Extreme weather events (drought and flood) would significantly reduce the wheat and maize yields. So, the governments should establish and improve the emergency service system of disaster warning and encourage farmers to mitigate the adverse effects of disasters. (ii) Over the past three decades, the NCP has experienced climate change that affects its grain production. Therefore, it is imperative to build the farmers' adaptive capacity to climate change. (iii) Spatial variations in crop yield are significantly influenced by the household characteristics and the heterogeneity of village economic conditions. Therefore, in addition to promoting household production, it is necessary to strengthen and promote China's development of the rural collective economy, especially the construction of rural irrigation and drainage infrastructures.
Date
2022-05-07
Type
Rights
© 2022 by the authors. Licensee MDPI, Basel, Switzerland. This article is an open access article distributed under the terms and conditions of the Creative Commons Attribution (CC BY) license (https://creativecommons.org/licenses/by/4.0/).