Dendroarchaeology in New Zealand: extending the range of archaeologically useful species beyond kauri (Agathis australis)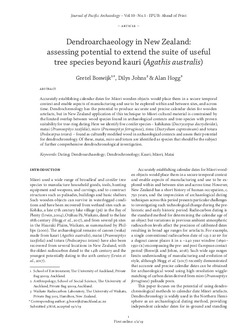 Abstract
Accurately establishing calendar dates for Māori wooden objects would place them in a secure temporal context and enable aspects of manufacturing and use to be explored within and between sites, and across time. Dendrochronology has the potential to produce accurate and precise calendar dates for wooden artefacts but in New Zealand application of this technique to Māori cultural material is limited as there is almost no overlap between wood species found in archaeological contexts and tree-species with proven suitability for tree-ring dating. Here we identify five archaeologically-useful species – kahikatea (Dacrycarpus dacrydioides), matai (Prumnopitys taxifolia), miro (Prumnopitys ferruginea), rimu (Dacrydium cupressinum) and totara (Podocarpus totara) – and assess their potential for dendrochronology. Of these, matai, miro and totara are identified as species that should be the subject of further comprehensive dendrochronological investigation.
Date
2019
Type
Publisher
New Zealand Archaeological Association
Rights
© New Zealand Archaeological Association.
Collections