Entrepreneurship as worship: A Malay Muslim perspective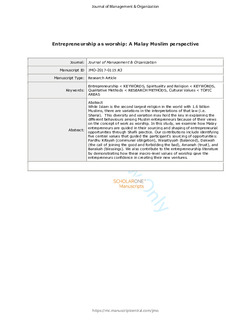 Abstract
While Islam is the second largest religion in the world with 1.6 billion Muslims, there are variations in the interpretations of that law (i.e. Sharia). This diversity and variation may hold the key in explaining the different behaviours among Muslim entrepreneurs because of their views on the concept of work as worship. In this study, we examine how Malay entrepreneurs are guided in their sourcing and shaping of entrepreneurial opportunities through Shafii practice. Our contributions include identifying five central values that guided the participant's sourcing of opportunities: Fardhu Kifayah (communal obligation), Wasatiyyah (balanced), Dakwah (the call of joining the good and forbidding the bad), Amanah (trust), and Barakah (blessings). We also contribute to the entrepreneurship literature by demonstrating how these macro-level values of worship gave the entrepreneurs confidence in creating their new ventures.
Date
2018
Type
Publisher
Cambridge University Press
Rights
This is an author's accepted version of an article published in Journal of Management & Organization. © 2018 Cambridge University Press and Australian and New Zealand Academy of Management.