Gird-i Rostam 2018: preliminary report on the first season of excavations by the joint Kurdish-German-American team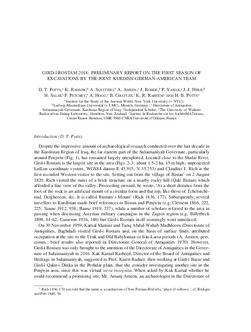 Abstract
The first season of excavations at Gird-i Rostam has revealed its potential as an important archaeological site. The findings indicate that the site was occupied during different periods, including the Sasanian and Late Chalcolithic periods, as well as the Bronze Age and the Neo-Assyrian era. This suggests a connection to the Assyrian empire and highlights the significance of the Penjwin region in eastern Kurdistan. The excavations have raised several goals for future seasons, including uncovering the site's Neolithic and Early/Middle Chalcolithic occupation, refining the chronology of the Late Chalcolithic in northern Mesopotamia, investigating the Assyrian impact on eastern Kurdistan, and exploring the link between Gird-i Rostam and the Nestorian ecclesiastical province of Beth Garmai. The findings at Gird-i Rostam have the potential to contribute to a better understanding of the Zagros region's development over time and its local and external relations.
Date
2019
Type
Publisher
Dutch Ancient Near Eastern Society "Ex Oriente Lux" in collaboration with the Netherlands Institute for the Near East (NINO)
Rights
© 2019 JEOL. Used with permission.
Collections