New Premier League season begins … but child abuse scandal hangs heavy over football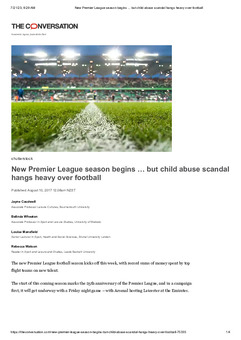 Abstract
The new Premier League football season is starting with record spending on new talent. It marks the 25th anniversary of the Premier League and begins with a Friday night game between Arsenal and Leicester. Players are also competing for spots in the 2018 World Cup squad. Newcastle United, Brighton & Hove Albion, and Huddersfield Town are aiming to make their mark after promotion. However, football continues to be plagued by historical child abuse allegations. Former players spoke out about childhood sexual abuse by coaches in the past. Operation Hydrant, the police inquiry, has received hundreds of reports involving 328 football clubs and 741 victims, mostly male aged 4 to 20. Other sports have also been implicated. The cases shattered the stereotype that only females are victims of sexual abuse in sports, hindering male victims from speaking out. The football authorities were criticized for their lack of transparency. Baroness Grey-Johnson urged the government to include sports coaches in the "position of trust" category in the Sexual Offences Act. Efforts are needed to tackle abusive behavior and safeguard against future abuse of boys and young men in football. Justice must be served for the victims of historical child abuse in football.
Date
2017-08-10
Type
Publisher
The Conversation Media Group Ltd
Rights
Copyright © 2010–2023, The Conversation Media Group Ltd. This work is licensed under a CC BY 4.0 licence.
Collections