The role of climate change in extreme rainfall associated with Cyclone Gabrielle over Aotearoa New Zealand's East Coast
Harrington, Luke J.
;
Dean, Sam M.
;
Awatere, Shaun
;
Rosier, Suzanne
;
Queen, Laura
;
Gibson, Peter B.
;
Barnes, Clair
;
Zachariah, Mariam
;
Philip, Sjoukje
;
Kew, Sarah
;
Koren, Gerbrand
;
Pinto, Izidine
;
Grieco, Matthew
;
Vahlberg, Maja
;
Snigh, Roop
;
Heinrich, Dorothy
;
Thalheimer, Lisa
;
Li, Sihan
;
Stone, Dáithí
;
Yang, Wenchang
;
Vecchi, Gabriel A.
;
Frame, David J.
;
Otto, Friederike E.L.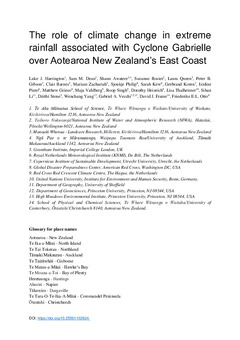 Abstract
Aotearoa is a country with good channels for communicating forecasts of extreme rainfall. Significant warning was able to be given for Cyclone Gabrielle of expected heavy rainfall and the potential for rapidly rising rivers, which may have reduced impacts. Still, the significant damage, economic cost, and loss of life can be linked to factors such as a reliance on flood protection systems and infrastructure that are not built to withstand such extreme flood events, settlements in highly flood-prone regions, and social vulnerability factors that can reduce coping capacity such as higher rates of disability and unemployment amongst Māori communities. Land use changes that reduced soil stability, combined with deforestation and forestry slashing likely also contributed to the impacts. Future efforts to reduce vulnerability should focus on addressing shortcomings such as updating infrastructure to be built to the "new normal", and strengthening early-warning systems for impacts, social connectedness, knowledge, skills and awareness of natural hazards which can improve risk perception and increase self-protective action based on a forecast or warning. Adaptation efforts must be inclusive of a variety of stakeholder viewpoints, especially Indigenous cultural values that may differ from Pākehā views of flood risk management.
Date
2023-03-14
Publisher
Grantham Institute.
Rights
© 2023 The Author(s). This work is licensed under a Creative Commons Attribution-NonCommerical-No-Derivatives 4.0 International License.
Collections