Negotiating the Spaces: Relational Pedagogy and Power in Drama Teaching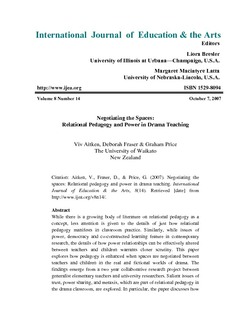 Aitken, V., Fraser, D. & Price, G. (2007). Negotiating the spaces: Relational pedagogy and power in drama teaching. International Journal of Education and the Arts, 8(14).
Abstract
While there is a growing body of literature on relational pedagogy as a concept, less attention is given to the details of just how relational pedagogy manifests in classroom practice. Similarly, while issues of power, democracy and co-constructed learning feature in contemporary research, the details of how power relationships can be effectively altered between teachers and children warrants closer scrutiny. This paper explores how pedagogy is enhanced when spaces are negotiated between teachers and children in the real and fictional worlds of drama. The findings emerge from a two year collaborative research project between generalist elementary teachers and university researchers. Salient issues of trust, power sharing, and metaxis, which are part of relational pedagogy in the drama classroom, are explored. In particular, the paper discusses how traditional power and knowledge positions are 'disrupted' through the drama strategy of 'teacher-in-role' - a strategy with both political significance and pedagogical force.
Date
2007
Type
Publisher
Arizona State University
Rights
This article has been published in International Journal of Education & the Arts. © 2007 International Journal of Education and the Arts. Used with Permission.