Users of open source software: How do they get help?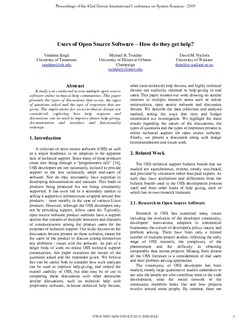 Singh, V., Twidale, M.B. & Nichols, D.M. (2009). Users of open source software: How do they get help?. In Proceedings of the 42nd Hawaii International Conference on System Sciences, Waikoloa, Big Island, Hawaii, January 05-08, 2009 (pp. 1-10). Washington, DC: IEEE Computer Society.
Abstract
A study was conducted across multiple open source software online technical help communities. This paper presents the types of discussions that occur, the types of questions asked and the type of responses that are given. The implications for socio-technical design are considered, exploring how help requests and discussions can be used to improve future help-giving, documentation and interface and functionality redesign.
Date
2009
Publisher
IEEE Computer Society
Rights
©2009 IEEE. Personal use of this material is permitted. However, permission to reprint/republish this material for advertising or promotional purposes or for creating new collective works for resale or redistribution to servers or lists, or to reuse any copyrighted component of this work in other works must be obtained from the IEEE.
Collections