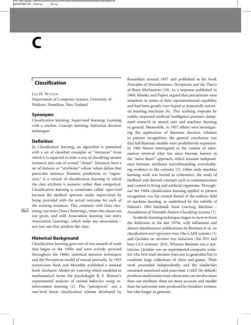 Witten, I. H. (2009). Classfication. In L. Liu & M. T. Ozsu (Eds), Encylopedia of Database Systems. Springer.
Abstract
In Classification learning, an algorithm is presented with a set of classified examples or ''instances'' from which it is expected to infer a way of classifying unseen instances into one of several ''classes''. Instances have a set of features or ''attributes'' whose values define that particular instance. Numeric prediction, or ''regression,'' is a variant of classification learning in which the class attribute is numeric rather than categorical. Classification learning is sometimes called supervised because the method operates under supervision by being provided with the actual outcome for each of the training instances. This contrasts with Data clustering (see entry Data Clustering), where the classes are not given, and with Association learning (see entry Association Learning), which seeks any association – not just one that predicts the class.
Date
2009
Type
Rights
This is an author's accepted version of an article published in the book: Encylopedia of Database Systems. ©2009 Springer.
Collections