Poetic sensibilities, humanities, and wonder: Toward an e/affective sociology of sport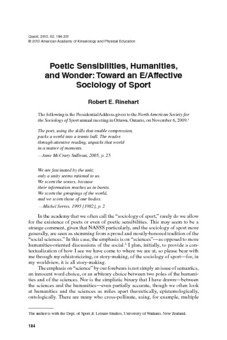 Rinehart, R. E. (2010). Poetic sensibilities, humanities, and wonder: Toward an e/affective sociology of sport. Quest, 62(2), 184-201
Abstract
In the academy that we often call the "sociology of sport," rarely do we allow for the existence of poets or even of poetic sensibilities. This may seem to be a strange comment, given that NASSS particularly, and the sociology of sport more generally, are seen as stemming from a proud and mostly-honored tradition of the "social sciences." In this case, the emphasis is on "sciences"—as opposed to more humanities-oriented discussions of the social.2 I plan, initially, to provide a contextualization of how I see we have come to where we are at, so please bear with me through my rehistoricizing, or story-making, of the sociology of sport—for, in my worldview, it is all story-making.
Date
2010
Type
Publisher
Human Kinetics Publishers Inc
Rights
This article has been published in the journal: Quest. © 2010 American Academy of Kinesiology and Physical Education.