Contextual queries express mobile information needs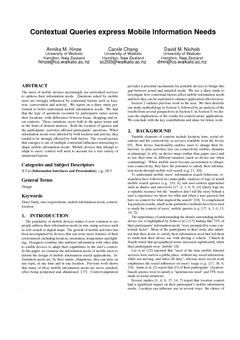 Hinze, A.M., Chang, C. & Nichols, D.M. (2010). Contextual queries express mobile information needs. In Proceedings of the 12th International Conference on Human Computer Interaction with Mobile Devices and Services, Lisbon, Portugal (pp. 327-336). New York, USA: ACM.
Abstract
The users of mobile devices increasingly use networked services to address their information needs. Questions asked by mobile users are strongly influenced by contextual factors such as location, conversation and activity. We report on a diary study performed to better understand mobile information needs. We find that the type of questions recorded by participants varies across their locations, with differences between home, shopping and in-car contexts. These variations occur both in the query terms and in the form of desired answers. Both the location of queries and the participants' activities affected participants' questions. When information needs were affected by both location and activity, they tended to be strongly affected by both factors. The overall picture that emerges is one of multiple contextual influences interacting to shape mobile information needs. Mobile devices that attempt to adapt to users' context will need to account for a rich variety of situational factors.
Date
2010
Rights
© ACM, 2010. This is the author's version of the work. It is posted here by permission of ACM for your personal use. Not for redistribution. The definitive version was published in MobileHCI '10, http://doi.acm.org/10.1145/1851600.1851658
Collections