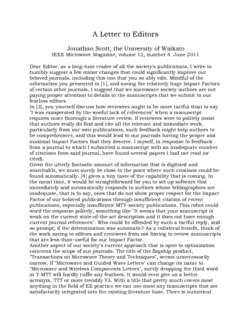 Scott, J.B. (2011). A letter to the editor. IEEE Microwave Magazine, 12(4), 16-17.
Abstract
The goal of this letter is to point out that the fastest way to weaken any society and its business model, including the IEEE and its reader-pays stance, is to lose your professional integrity.
Date
2011
Type
Rights
This is an author's accepted version of an article published in the journal: IEEE Microwave Magazine. ©2011 IEEE. Personal use of this material is permitted. However, permission to reprint/republish this material for advertising or promotional purposes or for creating new collective works for resale or redistribution to servers or lists, or to reuse any copyrighted component of this work in other works must be obtained from the IEEE.
Collections