Considering counsellor education in Aotearoa New Zealand. Part 2: How might we practise?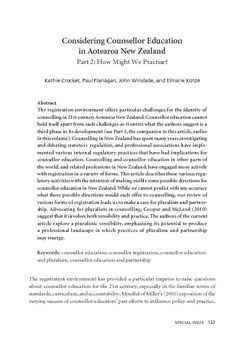 Crocket, K., Flanagan, P., Winslade, J. & Kotzé, E. (2011). Considering counsellor education in Aotearoa New Zealand. Part 2: How might we practise? New Zealand Journal of Counselling, Special issue, 133-143.
Abstract
The registration environment offers particular challenges for the identity of counselling in 21st-century Aotearoa New Zealand. Counsellor education cannot hold itself apart from such challenges as it enters what the authors suggest is a third phase in its development (see Part 1, the companion to this article, earlier in this volume). Counselling in New Zealand has spent many years investigating and debating statutory regulation, and professional associations have implemented various internal regulatory practices that have had implications for counsellor education. Counselling and counsellor education in other parts of the world, and related professions in New Zealand, have engaged more actively with registration in a variety of forms. This article describes these various regulatory activities with the intention of making visible some possible directions for counsellor education in New Zealand. While we cannot predict with any accuracy what these possible directions would each offer to counselling, our review of various forms of registration leads us to make a case for pluralism and partnership. Advocating for pluralism in counselling, Cooper and McLeod (2010) suggest that it involves both sensibility and practice. The authors of the current article explore a pluralistic sensibility, emphasising its potential to produce a professional landscape in which practices of pluralism and partnership may emerge.
Date
2011
Type
Publisher
New Zealand Association of Counsellors
Rights
This article has been published in the journal: New Zealand Journal of Counselling. Used with permission.