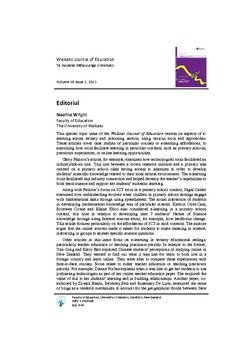 Wright, N. (2011). Editorial. Waikato Journal of Education, 16(1), 3-4.
Abstract
An introduction is presented in which the editor discusses various reports within the issue on topics including electronic learning tools, mathematical tasks of children in primary school settings, and teacher education.
Date
2011
Type
Publisher
Faculty of Education, University of Waikato
Rights
© 2011 Waikato Journal of Education. It is posted here by permission for personal use.