Remnants of the past, history and the present.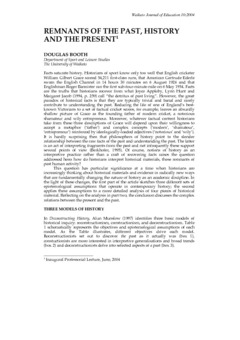 Booth, D. (2004). Remnants of the past, history and the present. Waikato Journal of Education, 10, 51-69.
Abstract
The article interprets that it is hardly surprising then that philosophers of history point to the slender relationship between the raw facts of the past and understanding the past. The latter is an act of interpreting fragments from the past and not infrequently these support several points of view. This question has particular significance at a time when historians are increasingly thinking about historical materials and evidence in radically new ways that are fundamentally changing the nature of history as an academic discipline. In the light of these changes, the first part of the article sketches three different sets of epistemological assumptions that operate in contemporary history; the second applies these assumptions to a more detailed analysis of four pieces of historical material. Reflecting on the analysis in part two, the conclusion discusses the complex relations between the present and the past.
Date
2004
Type
Publisher
Faculty of Education, University of Waikato
Rights
© 2004 Waikato Journal of Education. It is posted here by permission for personal use.