Teacher development for formative assessment.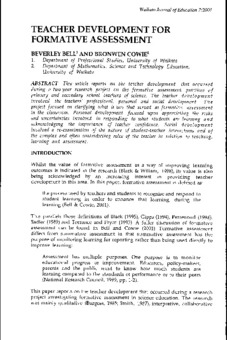 Bell, B. & Cowie, B. (2001). Teacher development for formative assessment. Waikato Journal of Education, 7, 37-49.
Abstract
This article reports on the teacher development that occurred during a two-year research project on the formative assessment practices of primary and secondary school teachers of science. The teacher development involved the teachers' professional, personal and social development. The project focused on clarifying what it was that served as formative assessment in the classroom. Personal development focused upon appreciating the risks and uncertainties involved in responding to what students are learning and acknowledging the importance of teacher confidence. Social development involved a re-examination of the nature of student-teacher interactions and of the complex and often contradicting roles of the teacher in relation to teaching, learning and assessment.
Date
2001
Type
Publisher
Faculty of Education, University of Waikato
Rights
© 2001 Waikato Journal of Education. It is posted here by permission for personal use.