Technology education in New Zealand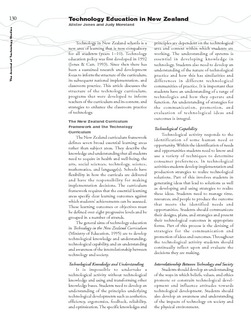 Jones, A., Moreland, J. (2002). Technology Education in New Zealand. The Journal of Technology Studies: On-line Edition. vXXVIII, no2, Summer/Fall.
Abstract
Technology in New Zealand schools is a new area of learning that is now compulsory for all students (years 1–10). Technology education policy was first developed in 1992 (Jones & Carr, 1993). Since then there has been a sustained research and development focus to inform the structure of the curriculum, its subsequent national implementation, and classroom practice. This article discusses the structure of the technology curriculum, programs that were developed to inform teachers of the curriculum and its content, and strategies to enhance the classroom practice of technology.
Date
2002
Type
Rights
© the authors 2002. Creative Commons Attribution-Noncommercial-Share Alike 3.0.