Agile methods for agile universities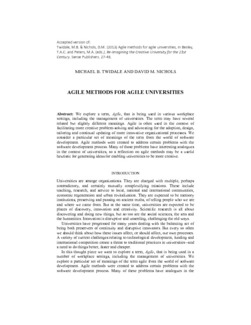 Twidale, M.B. & Nichols, D.M. (2013). Agile methods for agile universities. In T.A.C. Besley & M.A. Peters (Eds.), Re-imagining the Creative University for the 21st Century (pp.27-48). Rotterdam, The Netherlands: Sense Publishers.
Abstract
We explore a term, Agile, that is being used in various workplace settings, including the management of universities. The term may have several related but slightly different meanings. Agile is often used in the context of facilitating more creative problem-solving and advocating for the adoption, design, tailoring and continual updating of more innovative organizational processes. We consider a particular set of meanings of the term from the world of software development. Agile methods were created to address certain problems with the software development process. Many of those problems have interesting analogues in the context of universities, so a reflection on agile methods may be a useful heuristic for generating ideas for enabling universities to be more creative.
Date
2013
Type
Publisher
Sense Publishers
Rights
Authors' accepted version. © 2013 Sense Publishers, used with permission.
Collections