Power anisotropy in the magnetic field power spectral tensor of solar wind turbulence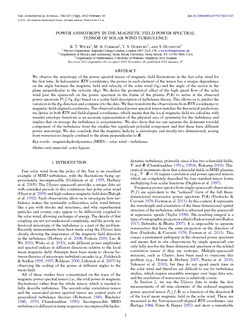 Wicks, R. T., Forman, M. A., Horbury, T. S., & Oughton, S. (2012). Power anisotropy in the magnetic field power spectral tensor of solar wind turbulence. The Astrophysical Journal, 746(1), 103.
Abstract
We observe the anisotropy of the power spectral tensor of magnetic field fluctuations in the fast solar wind for the first time. In heliocentric RTN coordinates, the power in each element of the tensor has a unique dependence on the angle between the magnetic field and velocity of the solar wind (θ B ) and the angle of the vector in the plane perpendicular to the velocity (φ B ). We derive the geometrical effect of the high speed flow of the solar wind past the spacecraft on the power spectrum in the frame of the plasma P( k ) to arrive at the observed power spectrum P(f, θ B , φ B ) based on a scalar field description of turbulence theory. This allows us to predict the variation in the φ B direction and compare it to the data. We then transform the observations from RTN coordinates to magnetic-field-aligned coordinates. The observed reduced power spectral tensor matches the theoretical predictions we derive in both RTN and field-aligned coordinates, which means that the local magnetic field we calculate with wavelet envelope functions is an accurate representation of the physical axis of symmetry for the turbulence and implies that on average the turbulence is axisymmetric. We also show that we can separate the dominant toroidal component of the turbulence from the smaller but significant poloidal component and that these have different power anisotropy. We also conclude that the magnetic helicity is anisotropic and mostly two dimensional, arising from wavevectors largely confined to the plane perpendicular to B.
Date
2012
Type
Publisher
IOP PUBLISHING LTD
Rights
© 2012 The American Astronomical Society.
Collections