Effect of long-term starvation on the survival, recovery, and carbon utilization profiles of a bovine Escherichia coli O157:H7 isolate from New Zealand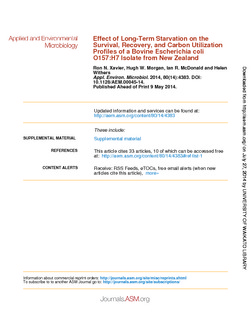 Files
Published version, 391.4Kb
Xavier, R. N., Morgan, H. W., McDonald, I. R., & Withers, H. (2014). Effect of long-term starvation on the survival, recovery, and carbon utilization profiles of a bovine Escherichia coli O157:H7 isolate from New Zealand. Applied and Environmental Microbiology, 80(14), 4383–4390. http://doi.org/10.1128/AEM.00045-14
Abstract
The ability to maintain a dual lifestyle of colonizing the ruminant gut and surviving in nonhost environments once shed is key to the success of Escherichia coli O157:H7 as a zoonotic pathogen. Both physical and biological conditions encountered by the bacteria are likely to change during the transition between host and nonhost environments. In this study, carbon starvation at suboptimal temperatures in nonhost environments was simulated by starving a New Zealand bovine E. coli O157:H7 isolate in phosphate-buffered saline at 4 and 15°C for 84 days. Recovery of starved cells on media with different nutrient availabilities was monitored under aerobic and anaerobic conditions. We found that the New Zealand bovine E. coli O157:H7 isolate was able to maintain membrane integrity and viability over 84 days and that the level of recovery depended on the nutrient level of the recovery medium as well as the starvation temperature. In addition, a significant difference in carbon utilization was observed between starved and nonstarved cells.
Date
2014
Type
Publisher
American Society for Microbiology
Rights
This article has been published in the journal: Applied and Environmental Microbiology. © 2014 American Society for Microbiology.
Collections