Doctorates in the dark: Threshold concepts and the improvement of doctoral supervision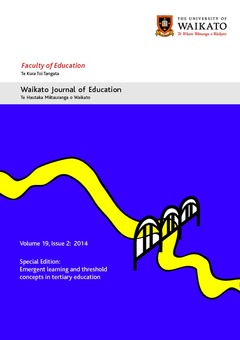 Johnson, E. M. (2014). Doctorates in the dark: Threshold concepts and the improvement of doctoral supervision. Waikato Journal of Education, 19(2), 69–81. http://doi.org/10.15663/wje.v19i2.99
Abstract
The overall goal of this qualitative research case study into doctoral writing was to determine if there were knowable threshold concepts and, if so, to develop effective strategies for helping students overcome them. In addition, it was understood that such strategies could have change implications for supervisory practice. Interview and survey data were collected from students and supervisors. From the student data two threshold concepts had emerged: "Talking to think"—a strategy for developing clarity in writing; and self-efficacy—the belief in one's ability to overcome writing barriers and become an independent academic researcher. In this paper, those two threshold concepts provide an organising framework for the presentation of supervisor findings and for discussion of supervisor professional development needs. The paper concludes with insights into how supervisor professional development could be improved and extended beyond its current focus on regulations and compliance issues.
Date
2014
Type
Publisher
Wilf Malcolm Institute of Educational Research, University of Waikato
Rights
This article is published under a Creative Commons Attribution 3.0 License.