Pest Fish Control - Fact Sheet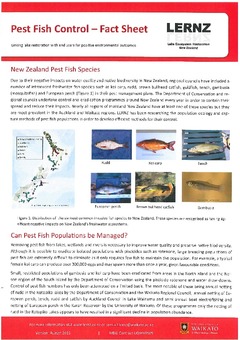 Tempero, G. W., Collier, K. J., & Hicks, B. J. (2015). Pest Fish Control - Fact Sheet. Hamilton, New Zealand: Lake Ecosystem Restoration New Zealand (LERNZ), University of Waikato.
Abstract
Due to their negative impacts on water quality and native biodiversity in New Zealand, regional councils have included a number of introduced freshwater fish species such as koi carp, rudd, brown bullhead catfish, goldfish, tench, gambusia (mosquitofish) and European perch (Figure 1) in their pest management plans. The Department of Conservation and regional councils undertake control and eradication programmes around New Zealand every year in order to contain their spread and reduce their impacts. Nearly all regions of mainland New Zealand have at least one of these species but they are most prevalent in the Auckland and Waikato regions. LERNZ has been researching the population ecology and capture methods of pest fish populations in order to develop efficient methods for their control.
Date
2015
Type
Publisher
Lake Ecosystem Restoration New Zealand (LERNZ), University of Waikato
Collections