The Science-for-Life Partnerships: Does size really matter, and can ICT help?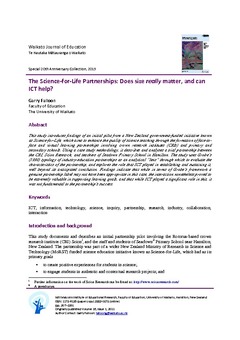 Falloon, G. (2015). The Science-for-Life Partnerships: Does size really matter, and can ICT help? Waikato Journal of Education, 20th Anniversary Collection, 207–219.
Abstract
This study introduces findings of an initial pilot from a New Zealand government-funded initiative known as Science-for-Life, which aims to enhance the quality of science teaching through the formation of face-to- face and virtual learning partnerships involving crown research institutes (CRIs) and primary and secondary schools. Using a case study methodology, it describes and analyses a trial partnership between the CRI, Scion Research, and teachers of Seadown Primary School in Hamilton. The study uses Grobe's (1990) typology of industry-education partnerships as an analytical "lens" through which to evaluate the characteristics of the partnership, and explores the role that ICT played in establishing and sustaining it, well beyond its anticipated conclusion. Findings indicate that while in terms of Grobe's framework a genuine partnership label may not have been appropriate in this case, the interaction nonetheless proved to be extremely valuable in supporting learning goals, and that while ICT played a significant role in this, it was not fundamental to the partnership's success.
Date
2015
Type
Publisher
Wilf Malcolm Institute of Educational Research, UoW, Hamilton, New Zealand
Rights
This work is licensed under a Creative Commons Attribution-NonCommercial-ShareAlike 4.0 International License.