Managed Aquifer Recharge in the Poverty Bay Flats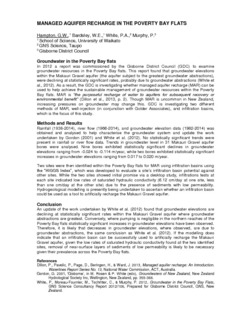 Hampton, G. W., Bardsley, W. E., White, P. A., & Murphy, P. (2015). Managed Aquifer Recharge in the Poverty Bay Flats (pp. 1–1). Presented at the N.Z. Hydrological Society Annual Conference, Wellingto, N.Z.
Abstract
In 2012 a report was commissioned by the Gisborne District Council (GDC) to examine groundwater resources in the Poverty Bay flats. This report found that groundwater elevations within the Makauri Gravel aquifer (the aquifer subject to the greatest groundwater abstractions), were declining at statistically significant rates, probably due to groundwater abstractions (White et al., 2012). As a result, the GDC is investigating whether managed aquifer recharge (MAR) can be used to help achieve the sustainable management of groundwater resources within the Poverty Bay flats. MAR is "the purposeful recharge of water to aquifers for subsequent recovery or environmental benefit" (Dillon et al., 2013, p. 2). Though MAR is uncommon in New Zealand, increasing pressures on groundwater may change this. GDC is investigating two different methods of MAR, well-injection (in conjunction with Golder Associates), and infiltration basins, which is the focus of this study.
Date
2015-11
Collections