Considering pedagogical content knowledge in the context of research on teaching: An example from technology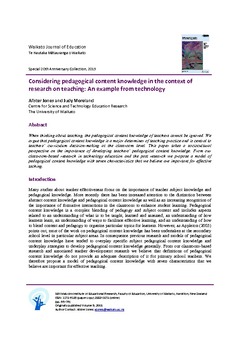 Jones, A., & Moreland, J. (2015). Considering pedagogical content knowledge in the context of research on teaching: An example from technology. Waikato Journal of Education, 20th Anniversary Collection, 65–76. http://doi.org/10.15663/wje.v20i3.224
Abstract
When thinking about teaching, the pedagogical content knowledge of teachers cannot be ignored. We argue that pedagogical content knowledge is a major determiner of teaching practice and is central to teachers' curriculum decision-making at the classroom level. This paper takes a sociocultural perspective on the importance of developing teachers' pedagogical content knowledge. From our classroom-based research in technology education and the past research we propose a model of pedagogical content knowledge with seven characteristics that we believe are important for effective teaching.
Date
2015
Type
Publisher
Wilf Malcolm Institute of Educational Research, UoW, Hamilton, New Zealand
Rights
This work is licensed under a Creative Commons Attribution-NonCommercial-ShareAlike 4.0 International License.