Special settlements in the Te Aroha district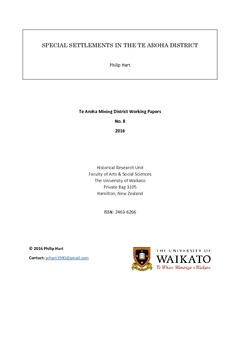 Hart, P. (2016). Special settlements in the Te Aroha district. (Te Aroha Mining District Working papers, No. 8), Hamilton, New Zealand: University of Waikato, Historical Research Unit.
Abstract
When negotiations for the Crown purchase of the Aroha Block were nearing completion in the late 1870s, some Englishmen sought land on which to establish special settlements. Local responses ranged from those wishing to see new capital invested and skilled farmers developing new districts to those who feared their apparently philanthropic motives disguised speculation in land. The temperance 'Broomhall Settlement', proposed in 1876, was opposed by many colonists, especially Thames miners, who wanted this land for themselves, and by politicians who detected a speculator. Drawn-out negotiations ended with the collapse of this scheme. In 1879, the 'Grant and Foster Settlement' was proposed. It would bring experienced farmers from Lincolnshire, along with farm labourers who would receive small plots of land and be expected to work for their betters. Land was selected at what became known as Shaftesbury, upstream from Waiorongomai, for this evangelical Christian and temperance settlement. As much of the land was of good quality, in time the farmers who remained there profited, but many departed, notably the labourers, who found better prospects elsewhere. In the late 1880s, when the Waiorongomai goldfield was fading, a settlement was established at Gordon, further upstream, for miners. These under-capitalized and often part-time farmers had a great struggle to develop their sections, and some forfeited their land for not complying with the regulations requiring them to live on it and improve it. But once again, some were able, in time, to create profitable farms.
Date
2016
Type
Publisher
Historical Research Unit, University of Waikato
Rights
© 2016 Philip Hart
Collections