John William Richard Guilding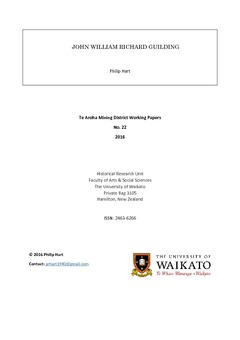 Hart, P. (2016). John William Richard Guilding. (Te Aroha Mining District Working papers, No. 22), Hamilton, New Zealand: University of Waikato, Historical Research Unit.
Abstract
Born in Auckland in 1842, by his late teenage years John William Richard Guilding was trading with Maori in the Piako district. Protected by a rangatira, he established a store at Kerepehi, but despite being known to be 'friendly' with Maori he was driven off after the start of the Waikato War. In 1864, again with the approval of a rangatira, he erected a store on the site of the future township of Thames. Although he claimed to have found signs of gold there, he was not the prospector who produced the samples that led to the opening of the goldfield. In 1869 he was appointed a licensed interpreter, in which role he assisted both the Crown and private individuals to acquire Maori land. Some of these transactions created controversy, and he was accused of tricking Maori. In 1875 his attempt to use his position as James Mackay's interpreter to acquire a lease of land at Tairua for his own financial gain provoked much criticism, and his 'irregular practices' led to his dismissal as a licensed interpreter in 1883. He would continue to act for individuals as both an interpreter and a land agent in Ohinemuri and Te Aroha in subsequent years. Guilding's close links with Maori were in part explained by his private life. Having married a 'half-caste' who later left him for another man, he had three more 'marriages' and several more children, who were brought up in Pakeha ways. Financially, he always struggled, filing as bankrupt twice and dying in straightened circumstances. At Te Aroha he held several minor official positions, sometimes being criticized for his performance. Active in local politics, he was generally unpopular and was never elected to the positions he sought. Throughout his life his reputation amongst a sizeable number of his contemporaries was poor.
Date
2016
Type
Publisher
Historical Research Unit, University of Waikato
Rights
© 2016 Philip Hart
Collections