Reha Aperahama: a Ngati Rahiri rangatira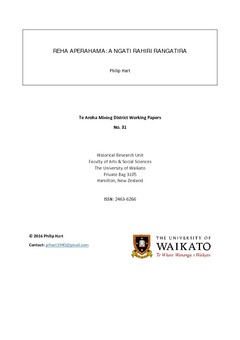 Hart, P. (2016). Reha Aperahama: a Ngati Rahiri rangatira. (Te Aroha Mining District Working papers, No. 31), Hamilton, New Zealand: University of Waikato, Historical Research Unit.
Abstract
Reha Aperahama had an illustrious whakapapa and was affiliated to several hapu. His father was notable as one of the most loyal rangatira (from the Crown's perspective) in Hauraki, and Reha followed his lead, probably in part because of the financial rewards he received from selling land to settlers. He tried to maximize his income from this source, spending several years pleading for permission to sell his Te Kawana block (near Te Aroha). After opposing Ngati Haua ambitions to acquire the Aroha block, by 1878 he was willing to encourage road building. Reha was regularly before the courts because of his inability or reluctance to pay his debts, occasionally perjuring himself to avoid liability. In his later years he had little money. Despite occasionally being drunk and even violent, he was an important figure in Maori society, with a leadership role in his hapu and in the Mormon church. He was also notable for his marital complications.
Date
2016
Type
Publisher
Historical Research Unit, University of Waikato
Rights
© 2016 Philip Hart
Collections