Harry Kenrick: the first warden of the Te Aroha mining district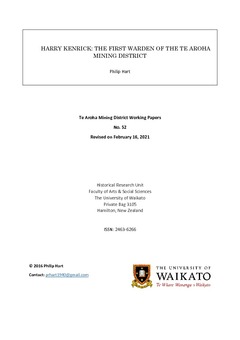 Hart, P. (2016). Harry Kenrick: the first warden of the Te Aroha mining district. (Te Aroha Mining District Working papers, No. 52). Hamilton, New Zealand: University of Waikato, Historical Research Unit.
Abstract
Because of his improvident father, Harry Kenrick left England for the Victorian goldfields before moving to the South Island of New Zealand. In 1865, he settled in the West Coast to begin a lifetime career of working for the government. In addition to his official duties, he was involved in mining and assisted to develop the district, becoming involved in disputes that foreshadowed his experiences at Thames. Appointed as resident magistrate for Poverty Bay in 1877, his work was praised, as it had been on the West Coast, but two years later he was abruptly moved to Thames to become both magistrate and warden after the forced resignation of his predecessor, William Fraser. The latter's career is examined, as is how his clique hated Kenrick for replacing him; but most residents welcomed a man whose decisions were seen as fair and just. Fraser retained support amongst many in the community, becoming mayor and then a member of parliament, but continued to snipe at Kenrick, supported by a small number of malcontents, who made his life difficult. In his determination to make his subordinates perform their duties satisfactorily, Kenrick provoked conflict with Hugh McIlhone, Inspector of Miners' Rights, and James Monteith McLaren, Inspector of Mines. They were supported by two prominent Thames residents, Louis Ehrenfried, a brewer and local government politician, and George Nathaniel Brassey, a solicitor, who spent years trying to undermine Kenrick for their own personal advantage. In 1880 and 1885, two petitions to remove him failed miserably, as his reputation both locally and with the government and its officials had risen steadily. Kenrick improved mining regulations and enforced them fairly, as even some who lost cases accepted. At Te Aroha, after some initial criticisms he became popular because of his efforts to be fair to all who came before him in court and his assistance both to mining and to the development of the district. His efforts to assist Maori made him popular with them as well, and when he died, prematurely, he was deeply mourned by both Maori and Pakeha.
Date
2016
Type
Publisher
Historical Research Unit, University of Waikato
Rights
© 2016 Philip Hart
Collections