Alexander Mackay: a prospector and miner in Hauraki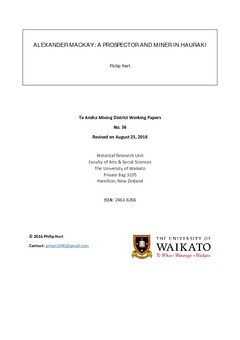 Hart, P. (2016). Alexander Mackay: a prospector and miner in Hauraki. (Te Aroha Mining District Working papers, No. 56). Hamilton, New Zealand: University of Waikato, Historical Research Unit.
Abstract
A Scot, trained as a carpenter, Alexander Mackay was a prospector and miner for most of his life. After fighting in the Waikato War, he went to the new Thames gold field, where he invested in and worked in several mines. From late 1868, he concentrated on prospecting in Ohinemuri, illegally, and claimed to have found gold in several places. After mining at Karangahake in 1875, he worked on other fields, including Waihi and Waiorongomai. Lacking capital, he usually worked for wages, and was not very successful in his prospecting or in obtaining a good financial return. He spent many years seeking rewards for all the discoveries he claimed to have made, unsuccessfully, for other prospectors refuted his claims. Because of his financial difficulties, he was involved in an attempt to obtain money by fraud in 1886 and became bankrupt in 1891. His complicated family life was marked by violence, drunkenness, and immorality, including adultery, prostitution, illegitimacy, and having his (legitimate) children taken off him.
Date
2016
Type
Publisher
Historical Research Unit, University of Waikato
Rights
© 2016 Philip Hart
Collections