The Eureka mine at Waiorongomai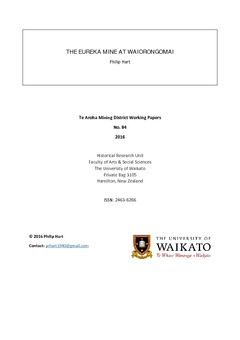 Hart, P. (2016). The Eureka mine at Waiorongomai. (Te Aroha Mining District Working papers, No. 85). Hamilton, New Zealand: University of Waikato, Historical Research Unit.
Abstract
High on the mountainside, the Eureka was developed by two experienced miners for two and a half years before its ore was first crushed. Its owners were sustained during that long wait by anticipations that their ore was payable, working steadily and erecting an aerial tramway to link with the county tramway. A company, typically under-capitalized, was formed to meet expenses. After the ore was first treated, in mid-1884, it quickly proved to be unpayable, and the mine was sold to the Battery Company, which abandoned it in the following year. The fundamental problem was that the gold was so fine that only 35 per cent was saved when treated. During the mining boom of the 1890s, when the Great Western Company reworked the ground, erecting another aerial tramway and a small battery, once again the mine proved unprofitable and was quickly abandoned.
Date
2016
Type
Publisher
Historical Research Unit, University of Waikato
Rights
© 2016 Philip Hart
Collections