Thomas Mcindoe: a Te Aroha saddler who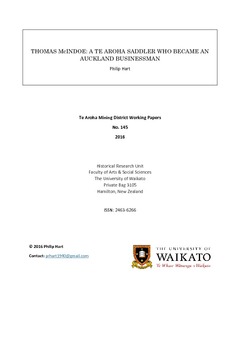 Hart, P. (2016). Thomas Mcindoe: a Te Aroha saddler who. (Te Aroha Mining District Working papers, No. 145). Hamilton, New Zealand: University of Waikato, Historical Research Unit.
Abstract
Starting out as a saddler at Te Aroha in 1891, Thomas McIndoe also became an agent, especially a successful land agent, acquiring some land holdings for himself. After leaving Te Aroha in 1911 he was a businessman in Auckland for the rest of his life. During the mining boom of the 1890s, he invested in many local mines, probably without making much if any money from his share dealings. McIndoe participated in almost every aspect of Te Aroha life, including the Anglican Church, a variety of sports, the Volunteers, the freemasons, and (especially) musical events. Involved in just about every local organization and local government body, he was the first president of the Chamber of Commerce and, briefly, on the borough council. Politically, he was a prominent supporter of the Liberal Party. In addition, he was notable for his charitable acts and for one heroic rescue. His personality was generally amiable, but he had a prickly side as well. He was a notable example of a 'pillar of the local community'.
Date
2016
Type
Publisher
Historical Research Unit, University of Waikato
Rights
© 2016 Philip Hart
Collections