Robert and Elizabeth Mackie: a Te Aroha butcher and his family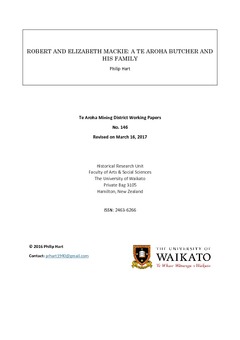 Hart, P. (2016). Robert and Elizabeth Mackie: a Te Aroha butcher and his family. (Te Aroha Mining District Working papers, No. 146). Hamilton, New Zealand: University of Waikato, Historical Research Unit.
Abstract
Although Elizabeth Mackie was fondly remembered, her husband, Robert, was not. Both were of Scottish parentage, and lived in various places in New Zealand before settling in Te Aroha in the early 1880s. Having participated in the Otago gold rush, he invested in a few unprofitable mines at Waiorongomai and Stoney Creek. As he freely expressed his strong opinions on everything, Mackie was a prominent member of the community, for both good and bad reasons. The good ones were his attempts to assist its development through his willingness to join local committees, notably the school committee, education being of particular interest to him. The bad reason for his prominence was his cantankerous nature, which was reflected in his careers as butcher and farmer and even more so in his private life. He was regularly involved in legal battles and often publicized his grievances in the press. Using his family members as dummies, he acquired land within and on the edge of Te Aroha for farming purposes, and also had farms at Waiorongomai and Wairakau, and clashed with other farmers in all these places. The battle over 'Clarke's drain' wasted council time for many years. Mackie struggled financially all his life, refusing to pay his debts until forced to, placing his property in his wife's name to evade his creditors, and going bankrupt. He even went to prison, four times, for refusing to pay debts as ordered by the magistrate. Because of his quarrelsome character, sometimes justified (to a degree), as when a daughter was made pregnant by one of his enemies, his wife refused to permit him to be buried in her grave. He was not the only disagreeable resident of the district, but was certainly one of the worst.
Date
2016
Type
Publisher
Historical Research Unit, University of Waikato
Rights
© 2016 Philip Hart
Collections