George Stewart O'Halloran: a pioneer publican and storekeeper at Te Aroha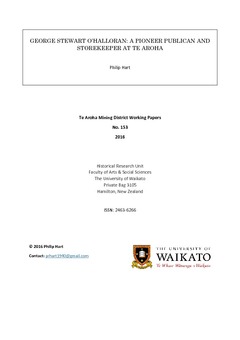 Hart, P. (2016). George Stewart O'Halloran: a pioneer publican and storekeeper at Te Aroha. (Te Aroha Mining District Working papers, No. 153). Hamilton, New Zealand: University of Waikato, Historical Research Unit.
Abstract
Born in Ireland, O'Halloran and his brothers went to Australia in 1860 before moving to New Zealand a few years later. After fighting against Maori for some years, as a member of the Armed Constabulary he made roads in Maori districts before settling in Thames and investing in mining and taking up a variety of often short-term occupations. He would struggle financially for all his life, both he and his wife becoming bankrupts. In 1875, he settled in Ohinemuri, where he was a director and legal manager for some mining companies as well as being a commission agent and, as well, becoming active in the community. His solution to the Maori 'problem' was for the government to acquire their land. At the end of 1878 he moved to the Te Aroha district as a publican and storekeeper, first at the Te Kawana landing on the western side of the river and then settling at the site of the future Te Aroha in early 1880, where he became the licensee of the Hot Springs Hotel. He was a strong advocate for the development of the district, seeking council and government assistance and personally helping to provide and improve roads, punts, and the baths at the hot springs, sometimes leading to conflict with local rangatira. After assisting prospecting, indirectly, he was involved in Te Aroha's first rush, which greatly increased his bar trade, and invested in local mines. In addition to being a publican, he was a storekeeper and had other occupations as well; for a time his wife ran a boarding house. Most of these occupations were short-term and financially unprofitable. During all his years at Te Aroha he and his wife were actively involved in the community. After leaving Te Aroha, he held a variety of jobs in Australia and then back in New Zealand, but his financial struggles may have been one reason for how he ended his life.
Date
2016
Type
Publisher
Historical Research Unit, University of Waikato
Rights
© 2016 Philip Hart
Collections