Patrick Quinlan: a publican at Te Aroha and Auckland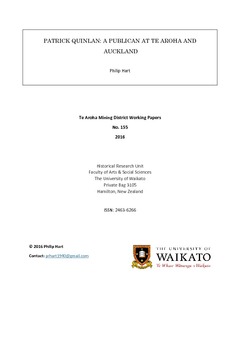 Hart, P. (2016). Patrick Quinlan: a publican at Te Aroha and Auckland. (Te Aroha Mining District Working papers, No. 155). Hamilton, New Zealand: University of Waikato, Historical Research Unit.
Abstract
Born in Panmure in 1854 to an Irish Catholic military family, Patrick Quinlan became a publican in Te Aroha at the end of 1880. He invested in a small way in mines close to the township and in a much larger way in Waiorongomai mines. After giving up his hotel in early 1885 he was a carter and contractor, but struggled to make his way financially. He was a prominent participant in the social life of the community, notably in horse racing and in helping his church. Other family members lived in Te Aroha at the same time, notably his brother-in-law, Henry William Baskiville, a butcher. After leaving Te Aroha in 1888, he became a very prominent and popular publican in Auckland, notable for the battles between his 'free house' and other hotels and brewers. Famous for his amiable nature, his involvement in horse racing and sport, and his charitable work, his impressive girth and 'Irishness' made him a cartoonist's dream. During the 1890s he invested in the mining boom, and in 1899 stood for parliament as an independent Liberal, very unsuccessfully. In 1908 he gave up his last hotel to settle on a farm at Taihoa, near Morrinsville. Once again he became a prominent member of the community, especially through his involvement with the Matamata Racing Club. When he died he was fondly remembered as having been 'generous and open-handed to a fault'.
Date
2016
Type
Publisher
Historical Research Unit, University of Waikato
Rights
© 2016 Philip Hart
Collections