The role of urban topography in the orientation of Greek temples: the cases of Akragas and Selinunte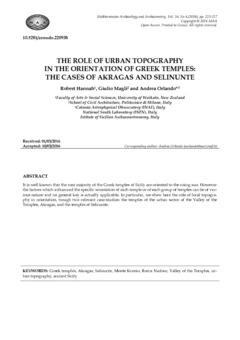 Hannah, R., Magli, G., & Orlando, A. (2016). The role of urban topography in the orientation of Greek temples: the cases of Akragas and Selinunte. Mediterranean Archaeology and Archaeometry, 16(4), 213–217. https://doi.org/10.5281/zenodo.220938
Abstract
It is well known that the vast majority of the Greek temples of Sicily are oriented to the rising sun. However the factors which influenced the specific orientation of each temple or of each group of temples can be of various nature and no general key is actually applicable. In particular, we show here the role of local topography in orientation, trough two relevant case-studies: the temples of the urban sector of the Valley of the Temples, Akragas, and the temples of Selinunte.
Date
2016
Type
Publisher
The University of the Aegean, Department of Mediterranean Studies, Rhodes, Greece
Rights
This article is published under Creative Commons Attribution 4.0.
Collections