Usability testing: a Malaysian study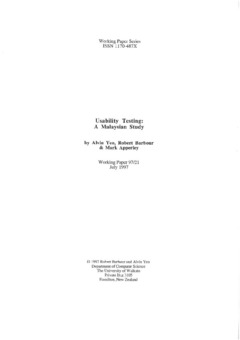 Yeo, A., Barbour, R. & Apperley, M. (1997). Usability testing: a Malaysian study. (Working paper 97/21). Hamilton, New Zealand: University of Waikato, Department of Computer Science.
Abstract
An exploratory study of software assessment techniques is conducted in Malaysia. Subjects in the study comprised staff members of a Malaysian university with a high Information Technology (IT) presence. The subjects assessed a spreadsheet tool with a Bahasa Melayu (Malaysia's national language) interface. Software evaluation techniques used include the think aloud method, interviews and the System Usability Scale. The responses in the various techniques used are reported and initial results indicate idiosyncratic behaviour of Malaysian subjects. The implications of the findings are also discussed.
Date
1997-07
Type
Publisher
Computer Science, University of Waikato