Cause of pulse artefacts inherent to the electrodes of neuromodulation implants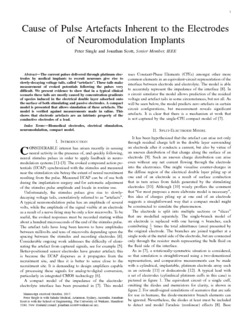 Single, P., & Scott, J. B. (2018). Cause of pulse artefacts inherent to the electrodes of neuromodulation implants. IEEE Transactions on Neural Systems and Rehabilitation Engineering, 26(10). https://doi.org/10.1109/TNSRE.2018.2870169
Abstract
The current pulses delivered through platinum electrodes by medical implants to recruit neurones give rise to slowly-decaying voltage tails, called "artefacts''. These tails make measurement of evoked potentials following the pulses very difficult. We present evidence to show that in a typical clinical scenario these tails are mostly caused by concentration gradients of species induced in the electrical double layer adsorbed onto the surface of both stimulating and passive electrodes. A compact model is presented that allows simulation of these artefacts. The model is verified against measurements made in saline. This shows that electrode artefacts are an intrinsic property of the conductive electrodes of a lead.
Date
2018
Type
Publisher
Institute of Electrical and Electronics Engineers
Rights
This is an author's accepted version of an article published in the journal: IEEE Transactions on Neural Systems and Rehabilitation Engineering. © 2018 IEEE. Personal use of this material is permitted. Permission from IEEE must be obtained for all other uses, in any current or future media, including reprinting/republishing this material for advertising or promotional purposes, creating new collective works, for resale or redistribution to servers or lists, or reuse of any copyrighted component of this work in other works.
Collections