The politics of workplace reform: 40 years of change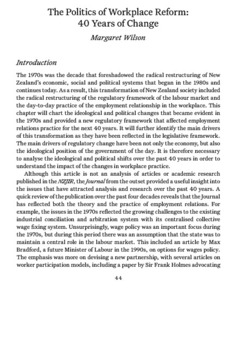 Wilson, M. (2017). The politics of workplace reform: 40 years of change. In A. Geare, E. Rasmussen, & M. Wilson (Eds.), Transforming Workplace Relations in New Zealand 1976-2016 (pp. 44–59). Wellington, New Zealand: Victoria University Press.
Abstract
The 1970s was the decade that foreshadowed the radical restructuring of New Zealand's economic, social and political systems that began in the 1980s and continues today. As a result, this transformation of New Zealand society included the radical restructuring of the regulatory framework of the labour market and the day-to-day practice of the employment relationship in the workplace. This chapter will chart the ideological and political changes that became evident in the 1970s and provided a new regulatory framework that affected employment relations practice for the next 40 years. It will further identify the main drivers of this transformation as they have been reflected in the legislative framework. The main drivers of regulatory change have been not only the economy, but also the ideological position of the government of the day. It is therefore necessary to analyse the ideological and political shifts over the past 40 years in order to understand the impact of the changes in workplace practice.
Date
2017
Type
Publisher
Victoria University Press
Rights
© 2017 copyright with the author.