China as a polar great power by Anne-Marie Brady[Review]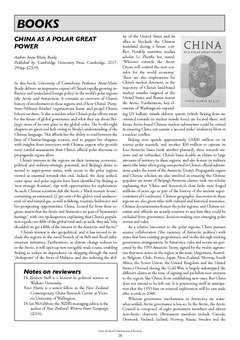 Steff, R. (2018). China as a polar great power by Anne-Marie Brady[Review]. New Zealand International Review, 43(4), 28–29.
Abstract
In this book, University of Canterbury Professor Anne-Marie Brady delivers an impressive exposé of China's rapidly growing influence and 'undeclared foreign policy' in the world's polar regions (the Arctic and Antarctica). It contains an overview of China's history of involvement in these regions and of how China's 'PartyState–Military–Market' organisations frame and propel China's behaviour there. It also considers what China's polar efforts mean for the future of global governance and what they say about Beijing's views of its own place in the global order. The book's eight chapters are given real heft owing to Brady's understanding of the Chinese language. This affords her the ability to read between the lines of Chinese-language sources, and to pepper her chapters with insights from interviews with Chinese experts who provide more candid assessments than China's official polar discourse or propaganda organs allow.
Date
2018
Type
Publisher
New Zealand Institute of International Affairs
Rights
This article is published in the New Zealand International Review. Used with permission.
Collections