On the inner-perceived sound objects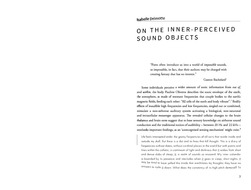 Delmotte, I. A. (2016). On the inner-perceived sound objects. Writing Around Sound, 3, 3–10.
Abstract
Some individuals perceive a wider amount of sonic information from out of and within, the body. Pauline Oliveros describes the sonic envelope of the earth, the sonosphere, as made of resonant frequencies that couple bodies to the earth's magnetic fields, feeding each ocher: "All cells of the earth and body vibrate". ² Bodily effects of inaudible high frequencies and low frequencies, singled out or combined, stimulate a non-airborne auditory system activating a biological, non-neuronal and intracellular messenger apparatus. The revealed cellular changes co the brain thalamus and brain stem suggest that co base sensory knowledge on airborne sound conduction and the traditional notion of audibility- between 20 Hz and 22 kHz - overlooks important findings, as an 'unrecognised sensing mechanism' might exist.³
Date
2016
Type
Publisher
Cantabrian Society of Sonic Artists Inc. (CSSA)
Rights
© 2016 copyright with the author.
Collections