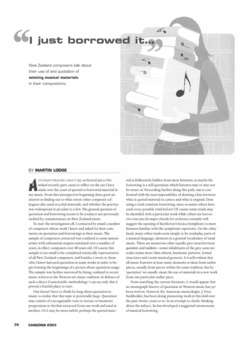 Lodge, M. (2003). 'I just borrowed it...' Canzona, 24(45), 38–41.
Abstract
A student inquiry about my orchestral piece Hinterland recently gave cause to reflect on the use I have made over the years of quoted or borrowed material in my music. From this introspective beginning there grew an interest in finding out to what extent other composer colleagues also used recycled materials, and whether the practice was widespread or peculiar to a few. The general question of quotation and borrowing seems to be a subject not previously tackled by commentators on New Zealand music.
Date
2003
Type
Publisher
Composers Association of NZ
Rights
This article has been published in the journal: Canzona. Used with permission.
Collections