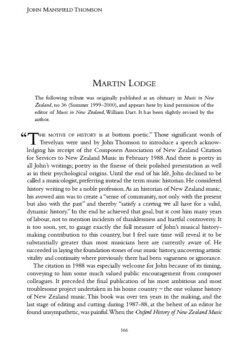 Lodge, M. (2003). Tribute to John Thomson. In M. Clark, J. Collinge, & M. Lodge (Eds.), John Mansfield Thomson: Notes Towards a Biography (pp. 166–170). Wellington, New Zealand: Steele Roberts Ltd.
Abstract
THE MOTIVE OF HISTORY is at bottom poetic." Those significant words of Trevelyan were used by John Thomson to introduce a speech acknowledging his receipt of the Composers Association of New Zealand Citation for Services to New Zealand Music in February 1988. And there is poetry in all John's writings; poetry in the finesse of their polished presentation as well as in their psychological origins. Until the end of his life, John declined to be called a musicologist, preferring instead the term music historian. He considered history writing to be a noble profession. As an historian of New Zealand music, his avowed aim was to create a "sense of community, not only with the present but also with the past" and thereby "satisfy a craving we all have for a valid, dynamic history." In the end he achieved that goal, but it cost him many years of labour, not to mention incidents of thanklessness and hurtful controversy. It is too soon, yet, to gauge exactly the full measure of John's musical history making contribution to this country, but I feel sure time will reveal it to be substantially greater than most musicians here are currently aware of. He succeeded in laying the foundation stones of our music history, uncovering artistic vitality and continuity where previously there had been vagueness or ignorance.
Date
2003
Type
Publisher
Steele Roberts Ltd
Rights
© 2003 copyright with the author.
Collections