Democracy vs. populism: the transformation of politics in Nigeria?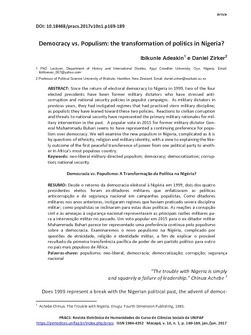 Adeakin, I., & Zirker, D. (2017). Democracy vs. populism: the transformation of politics in Nigeria? PRACS: Revista Eletrônica De Humanidades Do Curso De Ciências Sociais Da UNIFAP, 10(1), 169–189. https://doi.org/10.18468/pracs.2017v10n1.p169-189
Abstract
Since the return of electoral democracy to Nigeria in 1999, two of the four elected presidents have been former military dictators who have stressed anti-corruption and national security policies in populist campaigns. As military dictators in previous years, they had instigated regimes that had practiced stern military discipline; as populists they have leaned toward these two policies. Reactions to civilian corruption and threats to national security have represented the primary military rationales for mil-itary intervention in the past. A popular vote in 2015 for former military dictator Gen- eral Muhammadu Buhari seems to have represented a continuing preference for popu- lism over democracy. We will examine the new populism in Nigeria, complicated as it is by questions of ethnicity, religion and military identity, with a view to explaining the like- ly outcome of the first peaceful transference of power from one political party to anoth- er in Africa's most populous country.
Date
2017
Type
Rights
This article is published under a Creative Commons Attribution 4.0 International licence.
Collections