En la periferia de la textualidad literaria: la tecnopoesía. [On the margins of literary textuality: Technopoetry].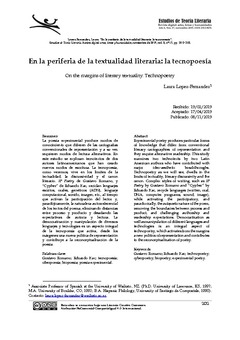 Abstract
La poesía experimental produce modos de conocimiento que difieren de las cartografías convencionales de representación y a su vez requieren modos de lectura alternativos. En este estudio se exploran tecnotextos de dos autores latinoamericanos que han creado nuevos modos de escritura. La tecnopoesía, como veremos, vive en los límites de la textualidad, la discursividad y el canon literario. IP Poetry de Gustavo Romano, y "Cypher" de Eduardo Kac, reciclan lenguajes escritos, orales, genéticos (ADN), lenguaje computacional, sonido, imagen, etc., al tiempo que activan la participación del lector y, paradójicamente, la naturaleza autopoética del poema, eliminando distancias entre proceso y producto y desafiando las expectativas de autoría y lectura. La democratización y manipulación de diversos lenguajes y tecnologías es un aspecto integral de la tecnopoesía que activa desde los márgenes, una nueva política de representación y contribuye a la reconceptualización de la poesía.
Date
2019
Type
Publisher
Universidad Nacional del Mar del Plata, Argentina
Rights
This article is distributed under the terms of the Creative Commons Attribution 4.0 International License.
Collections