El estado de la poesía con Dana Gelinas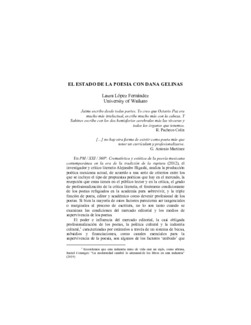 Files
Published version, 221.6Kb
Lopez-Fernandez, L. (2020). El estado de la poesía con Dana Gelinas. Hispanic Poetry Review. other, USA: Department of Hispanic Studies, Texas, US.
Abstract
En PM / XXI / 360°. Crematística y estética de la poesía mexicana contemporánea en la era de la tradición de la ruptura (2012), el investigador y crítico literario Alejandro Higashi, analiza la producción poética mexicana actual, de acuerdo a una serie de criterios entre los que se incluye el tipo de propuestas poéticas que hay en el mercado, la recepción que estas tienen en el público lector y en la crítica, el grado de profesionalización de la crítica literaria, el fenómeno condicionante de los poetas refugiados en la academia para sobrevivir, y la triple función de poeta, editor y académico como devenir profesional de los poetas. Si bien la mayoría de estos factores parecieran ser tangenciales o marginales al proceso de escritura, no lo son tanto cuando se examinan las condiciones del mercado editorial y los medios de supervivencia de los poetas.
Date
2020
Type
Publisher
Department of Hispanic Studies, Texas, US.
Collections