Precariat Māori households today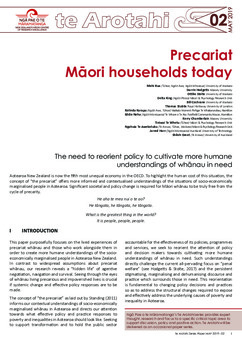 Abstract
Aotearoa New Zealand is now the fifth most unequal economy in the OECD. To highlight the human cost of this situation, the concept of "the precariat" offers more informed and contextualised understandings of the situations of socio-economically marginalised people in Aotearoa. Significant societal and policy change is required for Māori whānau to be truly free from the cycle of precarity.
Date
2019
Type
Publisher
Ngā Pae o te Māramatanga New Zealand's Māori Centre of Research Excellence
Rights
©2019 Ngā Pae o te Maramatanga. Used with permission.
Collections