Developing a new numerical surface/subsurface model for irrigation and drainage system design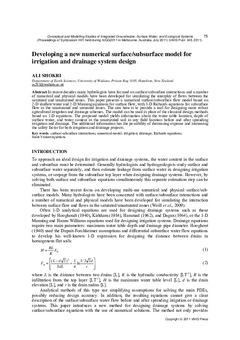 Abstract
In recent decades many hydrologists have focused on surface/subsurface interactions and a number of numerical and physical models have been developed for simulating the interplay of flows between the saturated and unsaturated zones. This paper presents a numerical surface/subsurface flow model based on 2-D shallow water and 2-D Manning equations for surface flow, with 3-D Richards equations for subsurface flow in the unsaturated and saturated zones. The aim here is to provide a tool for designing more robust agricultural irrigation and drainage schemes. The model can be used in place of the classical design methods based on 1-D equations. The proposed model yields information about the water table location, depth of surface water, and water content in the unsaturated soil in any field location before and after spreading irrigation and drainage. The additional information has the possibility of decreasing expense and increasing the safety factor for both irrigation and drainage projects.
Date
2011-01-01
Publisher
INT ASSOC HYDROLOGICAL SCIENCES
Rights
©2011 IAHS Press. Used with permission.
Collections