Evaluating return-to-work programmes after critical incidents: a review of the evidence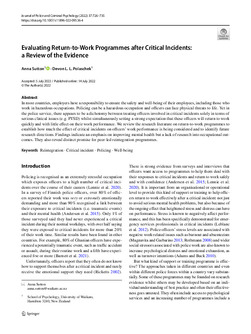 Abstract
In most countries, employers have a responsibility to ensure the safety and well-being of their employees, including those who work in hazardous occupations. Policing can be a hazardous occupation and officers can face physical threats to life. Yet in the police service, there appears to be a dichotomy between treating officers involved in critical incidents solely in terms of serious clinical issues (e.g. PTSD) whilst simultaneously setting a strong expectation that these officers will return to work quickly and with little effect on their work performance. We review the research literature on return-to-work programmes to establish how much the effect of critical incidents on officers' work performance is being considered and to identify future research directions. Findings indicate an emphasis on improving mental health but a lack of research into occupational outcomes. They also reveal distinct promise for peer-led reintegration programmes.
Date
2022-07-22
Type
Publisher
Springer Science and Business Media LLC
Rights
© 2023 The Author(s). This work is licensed under a CC BY 4.0 licence.
Collections